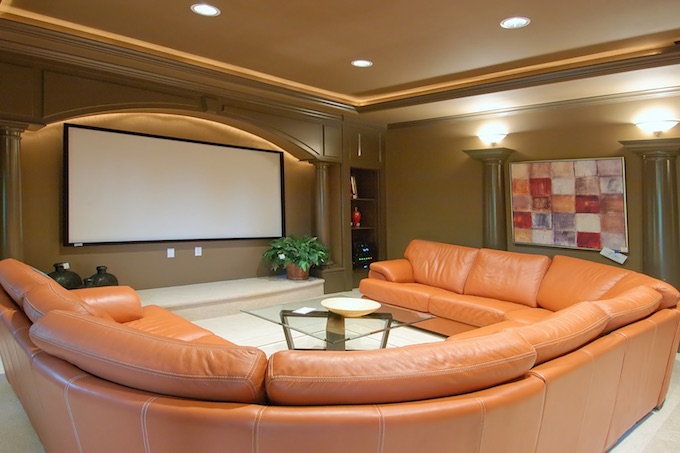 Installing a Home Theater System in Nevada
Do you love watching movies at home but would like a more cinema-like experience? Perhaps, you should consider creating your own home theater; especially if you have a spare room.
Interested in learning more? Keep reading for a comprehensive guide that will help you design and build your very own custom home theater.
Installing Your Very Own Custom Home Theater System in Las Vegas
1. Planning and Designing your theater
The very first thing that you must do is determine if the spare room you are considering for your home theater is large enough to allow for a projection system. Once you have made this determination, you must design your preferred layout. It is important to note that your projector should not be placed in a location that is close to any windows or doors and should be placed perpendicular to these items.
Seating arrangements: This step allows for some creativity, so you may choose the seating arrangement that you prefer. You may even want to consider building a platform for elevated seating; this platform can also be used to hide subwoofers.
Placing your speakers: The recommended positions that you can place your speakers in. These include center, left front, right front, left rear, and right rear; at ear level. If you are lucky enough to have a 7.1 system, add the left surround and right surround speakers to the rear corner of your room because sound spreads easier from that location.
Placing your home theater components: The ideal location for these components is the theater room. However, if you don't have that much space, it is possible to place them in another room. If this is the option that you choose, you will need to set up either an RF remote control with RF base station or an IR remote control system with repeater to allow for seamless control of the equipment.
2. Building a Home Theater system in Summerlin, NV
Use 2"x6" studs to frame out your seating platform. This will ensure that your platform is super sturdy and will be able to easily hold the weight of the chairs and the people that will be enjoying your at home cinematic experience.
Cover the platform with 7/16" oriented strand board (OSB). If you would like to prevent your subwoofer from rattling, use liquid nails before nailing the decking on the platform. In addition, it is important to note that, if you decide to frame out a false wall for your projection screen, you must not recess the screen more than a foot; if you go further than that, it will cause the reflection of the wall to pop up on the screen.
Frame out a cabinet for your projector and your equipment.
3. Wiring a Home Theater in Henderson, Nevada
Because electricity can be dangerous for the untrained, you should consider hiring an electrician for this portion of your home theater setup in Henderson. In fact, it is illegal in some areas for you to do it yourself.
Start with the AV cables, speaker wires, HDMI, and any other low voltage cables. It is important that these wires do not run parallel to any electrical wires.
If you would like a more cinema-type feel, consider installing some wall scones and lights on dimmer switches.
4. Choosing Finishing touches for your home theater
This step also allows for some creativity because there are a large variety of designing options. For more design options for your home theater, click here.
Paint your walls any color that you choose. However, it is important to note that, you must use a flat paint to minimize reflectivity.
To add an expensive feel, consider using crown molding and wainscoting.
Use carpet instead of hardwood and tile to absorb excess sound; this will improve the overall sound quality.
5. The Final Step for your personal movie theater
It's time to add your equipment and furniture to your home theater room. Once this is completed, invite some friends over, and bask in their jealousy while watching your favorite movies. To search top home theater movies, click here.